A lower back strain can create copious amounts of strain that unfortunately affect the patients' quality of life. Strains of this nature can be particularly difficult to deal with at work, as it can disrupt your concentration or physical ability to perform your jobs' required responsibilities. This leads us to two questions, what exactly is a lower back strain and how do you address this injury while you're at work? Our chiropractor near Mt. Sinai, Dr. Sophia Argeropoulos, provides answers to both of these questions.

What is a Lower Back Strain?
A lower back strain (commonly referred to as a pulled muscle) is an injury in which the muscles or tendons of the back are twisted, pulled, torn, or stretched beyond limitation. This injury causes the muscles to weaken, leading to the spine being less stable and thus leading to lower back pain. A back strain is usually catalyzed in a single instance, such as falling or improperly lifting a heavy object. Other prolonged instances could include overuse of the muscles, such as repetitive bending or crouching, consistently lifting heavy objects, or even just remaining in the same position for a long period of time. Symptoms of lower back pain typically include a few of the following:
Muscle cramping or spasms.
Pain in the lower back, legs, or thighs.
Pain when shifting positions.
Stiffness or limited range of motion.
If you are suffering from any of these symptoms, contact Dr. Sophia Argeropoulos, a chiropractor near Mt. Sinai. She can perform a full examination and determine if a muscle strain is what's causing your symptoms.
How to Manage a Back Strain at Work
Managing back pain can be strenuous, however, it can be especially difficult to manage at work. Naturally, this is due to the fact that there might not be an opportunity to lie down, rest, apply ice or heat, or take part in a variety of other treatments while you're working. However, there are still methods that can be taken to address your lower back strain at work, regardless of your job.
First, over the counter nonsteroidal anti-inflammatory drugs, such as Ibuprofen or Aleve can be taken to reduce pain and inflammation while you are at work. But please, consult with your doctor before adding medication to your treatment plan. Next, be conscious of your posture, whether lifting objects or sitting in a chair. If you're sitting, keep your feet on the floor, don't cross your legs, and keep your shoulders over your hips. If you're lifting objects, bend your knees, lift with your legs and don't twist while lifting. Finally, try to take small breaks at work where you can walk around and stretch to relieve any stiffness present.

If you're suffering from back pain at work, contact Dr. Sophia Argeropoulos, a chiropractor near Mt. Sinai. She can address your symptoms and relieve the back pain you experience at work.

When to See a Chiropractor near Mt. Sinai:
Although muscle strains can often heal on their own, sometimes professional treatment is needed. A chiropractor can uniquely treat a back strain by using several spinal manipulation techniques to ensure the spine is in proper alignment, helping to relieve pain and allow the body to heal itself. A chiropractor can also provide therapeutic massages, educate patients on how to properly sit, stand, or perform other movements, and help patients break bad habits related to posture, form, and movement.
If you have a back strain and feel you could benefit from a chiropractor, contact Dr. Sophia Argeropoulos, a chiropractor near Mt. Sinai for more information.
Summary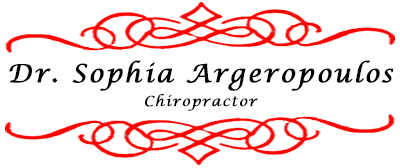 Author Rating





Brand Name
Product Name
Chiropractor near Mt. Sinai